New Construction
One Hundred Avon (Opened August 2021)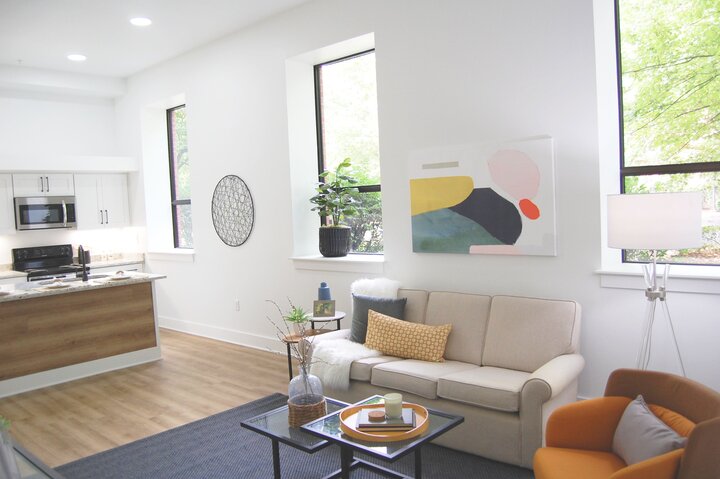 One Hundred Avon (Steps from the Belmont Bridge and Downtown Mall)
Available August 2021, One Hundred Avon provides the best blend of contemporary living and historic appreciation, from the elegant granite countertops to the modern fixtures. Savor natural light with oversized windows and immense 11 foot ceilings. Stainless steel appliances, LEED Standard engineering, LED lighting, and energy efficient HVAC mini split heating/cooling systems add a touch of modern to these spacious units. Plus, enjoy TING Fiber and Xfinity High Speed internet options, and in-unit front loading washers/dryers.One Hundred Avon is just a short walk away from restaurants and local shopping in the downtown-Belmont area. Ride your bike to the local farmers market and fill your basket with fresh produce, then park it in our private, dedicated bike storage. Enjoy peace of mind with HD 1080p security cameras in interior hallways and exterior entrances, keypad building entries, and Schlage deadbolt keys on all apartment doors.
Beta II (Opened June 2018)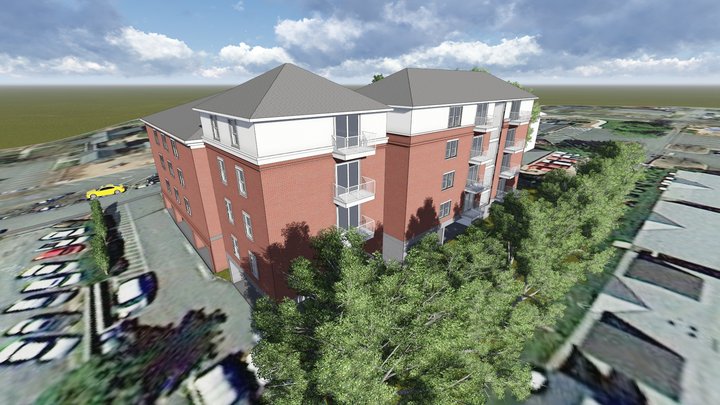 Beta II on 17th Street NW (behind current Beta Bridge Apartments)
BETA II is comprised of 11 new apartments located on the lot directly behind the current Beta Bridge Apartments. All units in BETA II boast electronic keypad entry doors, stainless steel Energy Star appliances, hardwood floors, programmable thermostats and 14 SEER heating/cooling systems. The building has 24/7 security camera coverage and a keyed bicycle and scooter storage room. Tower Units 104 & 204 feature spacious two-level layouts while Penthouse Unit 406 provides unique views of the Venable neighborhood and beyond. BETA II is nestled in the popular fraternity/sorority area near Rugby Road and will give residents the perfect blend of convenience and luxury living.
The Greek (Opened June 2015)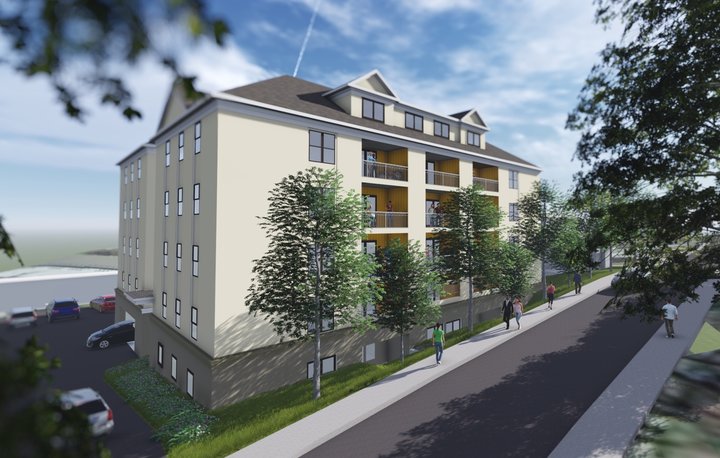 The Greek on Virginia Avenue
The Greek, located on Virginia Avenue in the heart of Fraternity & Sorority area, is the newest and largest development in the CBS Rentals portfolio. The south facing units on the 3rd & 4th levels (302, 306, 402, 404, 406) have tremendous Blue Ridge Mountain views. Tower and Penthouse units feature multi-level layouts and spacious living rooms. Only 1 block from Rugby Road and 14th Street, the Greek is ideally located for the social lifestyle. Each unit boasts granite countertops, low VOC paint, stainless steel EnergyStarappliances, in-unit washer/dryers, security cameras in common areas, programmable thermostats, security fob building entry and 14 Seer Energy Saving Heat/AC Pumps.
The Warehouse (Opened June 2013)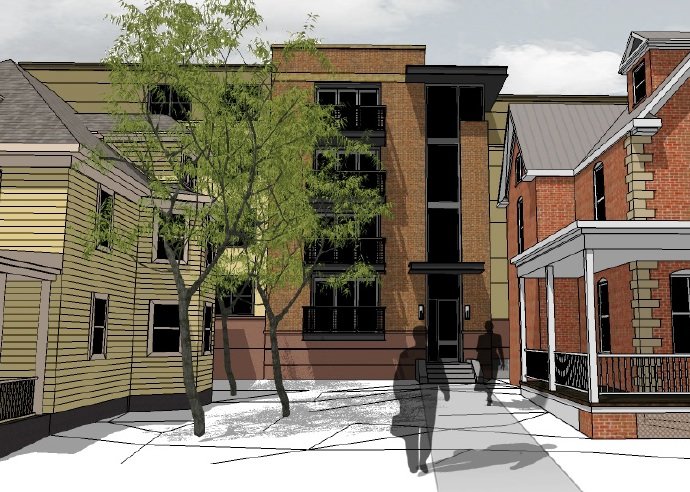 The Warehouse on Wertland
To maintain the historic elements of Wertland Street, the Warehouse was built behind 1306 and 1310 Wertland on a footprint previously occupied by a parking lot and 1-bedroom cottage. Upon completion, the Warehouse became the only newly constructed rental property that exits directly onto the UVa Corner. This 13-unit boutique apartment community boasts 5 distinct floor plans and a 600 square-foot commercial space on the ground floor. The units feature granite countertops, low VOC paint, stainless steel EnergyStar appliances, in-unit washer/dryers, security cameras in common areas, programmable thermostats, security fob building entry and 14 Seer Energy Saving Heat/AC Pumps.
The Grove Annex (Opened June 2013)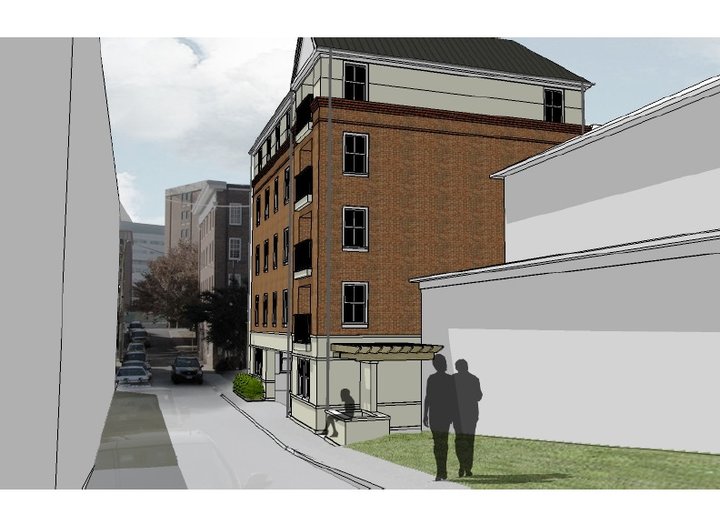 The Grove Annex on 12 1/2 Street
The Grove Annex is a truly unique property located on 12 1/2 Street. This 4-unit boutique apartment is exclusively comprised of 6-bedoom apartments which is unlike any other new development in the University area. Each unit boasts two balconies, granite countertops, low VOC paint, stainless steel EnergyStar appliances, in-unit washer/dryers, security cameras in common areas, programmable thermostats and 14 Seer Energy Saving Heat/AC Pumps. Residents enjoy garage parking under the building, nearby UTS bus stops and fantastic walk scores to UVa Corner shops and restaurants. A must visit for any group of 6 searching for a luxury apartment!
The Greenhouse (Opened June 2011)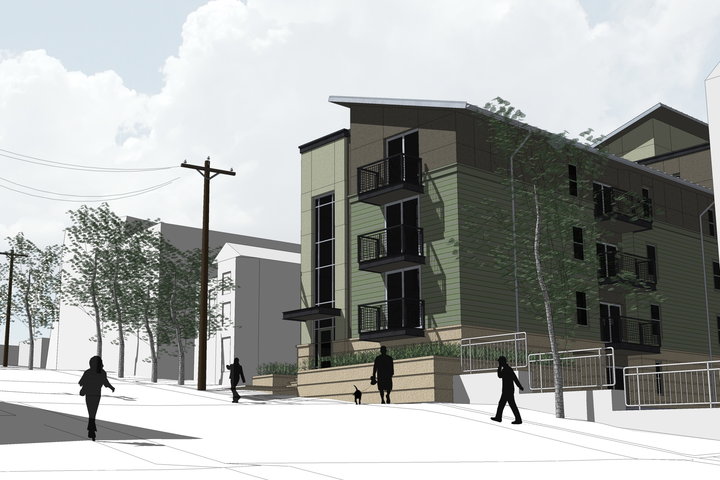 The Greenhouse (14th Street Rendering)
The Greenhouse is the first LEED Certified Student Housing Project in central Virginia. It was named "Outstanding Sustainable Development" in 2012 by the City of Charlottesville Planning Commision.
What is LEED? Leadership in Energy & Environmental Design is an internationally recognized green building certification system, providing third-party verification that a building or community was designed and built using strategies intended to improve performance in metrics such as energy savings, water efficiency, CO2 emissions reduction, improved indoor environmental quality, and stewardship or resources and sensitivity to their impacts.
Each unit in the Greenhouse boasts stainless steel EnergyStar appliances which use 20%-30% less energy than standard appliances. Woven Bamboo EcoTimber span living rooms and hallways, while bedrooms have recycled fiber carpet. All faucets have aerators to conserve usage and all toilets are ADA designated low-flow models (1.28 gpf). Each unit features programmable thermostats and computerized water meters to better track usage and efficiency of utilities. All thermal windows are adorned with 2 inch faux-wood blinds to reduce both temperature and light, cutting cooling costs in the summer and heating costs in the winter. All kitchens feature granite countertops and custom cabinets to ensure the interiors are furnished with material with extended lifetimes. The Greenhouse features a reflective white rubber roof which enhances durability and reduces both building cooling loads and the urban heat island effect. Solar panels, mounted on recycled metal roofing, are tied into the house lighting grid to provide energy efficient solutions for common hallway and stairwell lighting. The stairwells also utilize natural light during the day from abundant skylight windows on the top level. The exterior of the Greenhouse is a combination of Hardiplank fiber cement siding and stucco. Hardiplank carries a 50 year warranty to not blister or peel, minimizing the environmental impacts of repeated painting. On the parking lot level, the Greenhouse will incorporate Permeable Pavement to allow rainwater runoff to infiltrate into the soil below, minimizing the impact to water quality and sustainable drainage systems.